Goju Kai Karate Do Sydney Australia
Alexandra Starling Shihan

Photo Graphics- Courtesy of Eugene Kitney Sensei.


WORLD UNION OF KARATEDO ORGANISATIONS-WUKO WORLD KARATEDO CHAMPIONSHIPS
Bronze Medalist 1982-
TAIWAN. ROC 1st-Japan-[Mie Nakayama]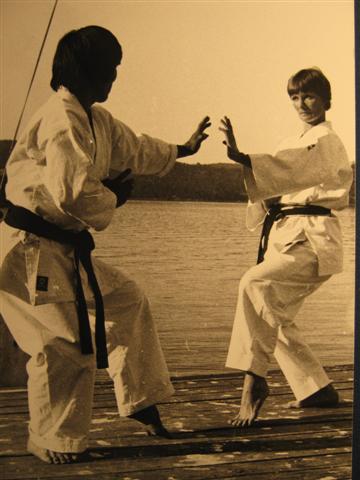 Sandie Alexandra Starling & Goshi Yamaguchi in Sydney 1980
Alexandra Starling 5th Dan Renshi Shihan, known as Sandie, was the first Australian to win a place in an internationally
r
ecognised World Karate do Championship. She was also the first Australian woman to receive a Black Belt in the New South Wales branch of the Australian Karate Federation (A.K.F.) and the first in New South wales to gain referee/judge status. In the International Goju Kai Association she was also the first non-Japanese woman to be graded to Shihan (Master rank) & 5th Dan [1989] , by the world reknown goju-ryu master Gogen Yamaguchi . Over 60 Nations were represented from throughout the World at the 6th World Karate Championships in 1982 with Mrs Starling being the oldest competitor in the tournament , then aged 33yrs. In the final round of the Kata competition she gained a higher score from the Japanese judge than the eventual winner- Mie Nakayama, and was awarded a Bronze medal for Australia.
Alexandra retired from competition after the World Tournament, her first and only attempt at an International event. She then went on to become the first female coach on a state/national level, and trained a large group of state and national champions as well as International competitors until 1989. The majority of her teaching has been confined to traditional Goju Ryu rather than tournament style.
Australian Champion-1982-Female Kata event.
Australian Kata Medalist 1978-1982
New South Wales Kata Champion 1978,
New South Wales Kata Champion 1979,
New South Wales Kata Champion 1980,
New South Wales Kata Champion 1981,
New South Wales Kata Champion 1982.
New South Wales Kumite Champion u/53k, 1980
Australian Female Kumite Finalist Silver Medalist
Australian Karate Federation- (Formerly FAKO. Australia's only recognised body for Karatedo.)
Australian Team Member & women's captain. 1982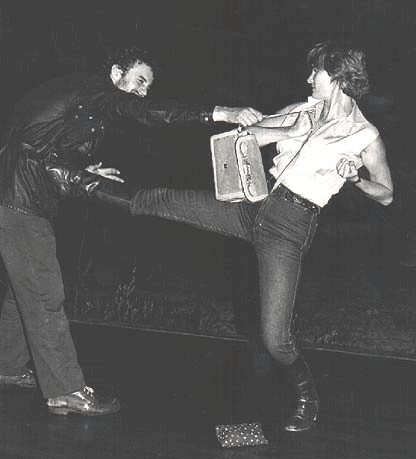 Sandie commenced training in February 1974 at the North Sydney Dojo and Macquarie Iniversity Karate Club in Sydney where she was first introduced to her husband Paul. Training on a full time basis 6 days a week and 4 hours per day,( and 6 hours on Saturdays), she persisted with this punishing regime and became very proficient over a period of 4 years culminating in her gaining full Shodan status in December of 1977. In those days classes were jam packed with baby boomers who had witnessed the prowess of the reknown Bruce Lee via his many movies, and it was not uncommon to be training alongside 60 to 80 other students each night, the majority 99.9% of whom were male. Not only was it practically unheard of in those days for an Australian woman to gain a Black Belt in Karate do (there were two in Victoria and one or two in Judo) and none in New South Wales; it was also a period when women were NOT permitted to compete in Karate Tournaments in any form , Kata nor Kumite.
Because Sandie Shihan had gained Black Belt status she was invited to participate in the Australian Karate Federation meetings whereby she argued vehemently for a women's division in tournaments to be introduced. This was approved by 1978 however only Kata events were permitted initially, in line with the (WUKO WKF) World Karate Federation ruling. Initially having no interest in Kata competition Sandie was particularly interested in competing in Jiu Kumite events as opposed to point Shiai kumite which was not taught at her dojo, all students being required to perform strongly instead in free sparring round robin sessions often lasting up to 2 hours per session. Because Sandie was mainly partnered with men her forte was in this area rather than in the execution of competition Kata. After competing and winning the innaugral tournament though, it was as the first New South Wales female Kata Champion that Sandie forged ahead determined to improve to the point where she might one day gain the Australian Kata Championship title. Travelling to the World Karate Championship in Longbeach California in 1976, then on to Japan to train at the Honbu Dojo of Grandmaster Gogen Yamaguchi and his son Yamaguchi Goshi Shihan, she trained in private sessions with Wakako Yamaguchi Shihan daughter of Gogen and sister to Goshi Yamaguchi Shihan. She trained again with Wakako and Goshi Yamaguchi Shihans after they had travelled to Australia for Summer Camps at Tallangatta ( held by Victorian Goju Kai) and later stayed with Paul and Sandie at their home nearby to Macquarie University.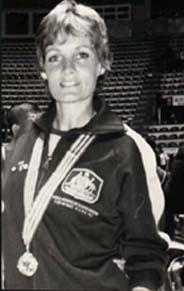 After experiencing Wakako Shihan's incredible technical ability it was Sandie's aim to emulate Ms Yamaguchi's performance in the higher Kata; training rigourously on a daily basis it was from 1978 through to 1982 Sandie remained the undefeated Kata Champion and was also undefeated as Australian Champion having retired from competition in 1982 after her World Championship medal performance in Taipei Taiwan. Although going on to coach many champions both male and female in State National and International competition, it was still traditional Japanese Goju Ryu training that meant the most to her so she took every opportunity to train in Japan with the Yamaguchi family, at the Dojo of Gogen Yamaguchi Kaiso, Goshi Yamaguchi Hanshi, Gosen Yamaguchi Kyoshi and Wakako Yamaguchi Shihan. At the same time Sandie was invited to train with many famous Karate masters by their Australian Chief Instructors, including: Morio Higaonna Sensei from Okinawan Goju Ryu whenever he was in Australia: Hirokazu Kanazawa Sensei from Shotokan on many occasions, Suzuki Sensei from Wado Ryu, Kenshu Watanabe Sensei, Frank Nowak Sensei, Phillip and Robert Kear and Tino Ceberano Sensei as well as Inoue Motokatsu Kaiso from Ryukyu Kobujutsu Hozon Shinko Kai.
Qualifications 5th Dan Renshi Shihan 1989
B.A. Modern History
M.A. Modern History
Macquarie University Sydney Australia
© 2009 WWW.GOJUKAI.COM.AU


Sydney Gojukan~ School of Gogen Yamaguchi

Founder : PAUL STARLING Kyoshi 7th Dan - VICE PRESIDENT IKGA
.