Goju Kai Karate Do Sydney Australia
MEMBERS BLOGSPOT LOGIN
HERE
LOCATIONS BELOW.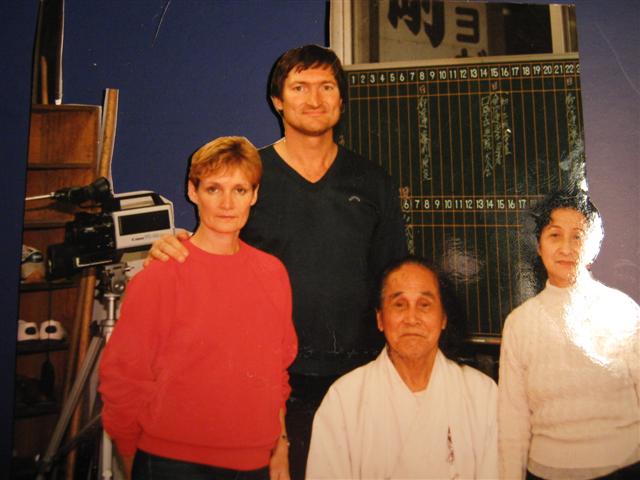 Gogen Yamaguchi Kaiso with wife Mitsue and Paul & Sandie Starling in Tokyo 1979 circa

REGISTERED BUSINESS NAMES

1. GOJU KAI KARATE DO

2. SYDNEY GOJU KAN

SINCE 1970

SENIOR INSTRUCTORS


Mark Burton Shihan 6th Dan Renshi
Ray Beattie 4th Dan
David Harrison 4th Dan
Hordern Wiltshire 4th Dan


Phone 043-653145 mark@gojukai.com.au


Senior Classes Paul Starling Shihan



MACQUARIE UNIVERSITY since 1968
DOJO NOW AT MARSFIELD
Instructor David Harrison 4th Dan

Monday & Thursday 7pm- 9pm
Saturday 1.30 -3.30 pm Advanced
4- 6pm Kyu Grades Ian Campbell- Nidan

[Martial Arts Dojo] Beginners & Advanced.
CENTRAL COAST GOJU KAI-
Taught by Mark Burton Shihan-
Classes are held on Monday evenings
in the Wamberal Community Centre
ROY MEADOW Kincumber Dojo

WAVERTON & MARSFIELD DOJO SYDNEY
PAUL STARLING KYOSHI - TEACHES BLACK BELTS ONLY
DAVID HARRISON JOKYO - 4th Dan
HORDERN WILTSHIRE JOKYO -4th Dan
DAVID GRANT SHIDOIN - 3rd Dan
JOERG HICKMAN SHIDOIN -3rd Dan
ANDY VARGA SHIDOIN -3rd Dan


Macquarie University Karate Club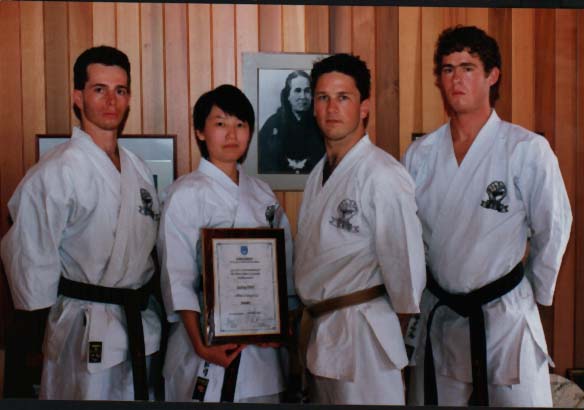 Blues winners- from left to right,
Geoffrey Reid Faculty of Law.
Audrey Khaw-Electrical Engineering ( Univ of Technology. )
Sean Rush-Faculty of Law.
Michael Smart-MA Hons Politics.
Macquarie University Goju Kai Karate Club

Is one of the longest established clubs on the campus of the Macquarie University. Established in the late 1960's , the club has continually provided instruction of a very high standard to the students at a greatly reduced and subsidised rate. Instructor Paul Starling is one of Australia's most senior Karate masters.
A founder member of the Australian Karate Federation [formerly Federation of All Australian Karate do Organisations] Paul Starling called Australian members together for the very first meeting of the Federation 40 years ago, at Coogee NSW, hence establishing the inaugural gathering of Karate masters in Australian History .

Established 1968-1969 the Macquarie Uni Karate Club has the distinction of being one of the longest running clubs at the University with Paul Starling [ Shihan] personally teaching the classes over the past 40 years. Many club members have attained the coveted Black Belt level of achievement only awarded to the dedicated student of karate do after many years of traditional and disciplined training.
In this day and age of self promoted Instructors of dubious lineage and ability , and people selling Karate do as if it were merely another disposable commodity, the Instructors of Goju Kai Karate do maintain the traditional precepts of Karate do, whereby the Shodan-Black Belt is only awarded to selected & dedicated members after a minimum of at least 3 years of intensified training.
Black Belt members of the Macquarie University Karate Club have gone on to receive the prestigious Blues Awards from the Macquarie University Sports Association, via their attainment of Australian Championship Gold Silver and Bronze Medals in the Australian Universities [Intervarsity] Karate Championships, and other State and Australian Titles.
ATTIRE & TRAINING.
Members and beginners generally arrive between 6 & 6.30 pm which is the period that the warming up & stretching is commenced. Beginners during 1st semester will join a self defence class which operates for most of the first half of the semester. Students should wear loose fitting clothing, a dogi [karate uniform] can be purchased at a later stage and must be worn with the goju kai fist. This is compulsary for all students attempting the first grading test whereby students are eligible to attempt promotion after a minimum of 24 classes. University students leaving lectures by 6pm can warm up and join into the class by 6.30pm. Students are welcome to commence their participation in the classes at any time during the year.
Students may still commence training after the beginning of the class at a time that suits their lecture and tutorial schedule.

Check for latest times and class schedule which has changed recently: April 2009

Class schedule. 6.00pm to 6.30pm Warmup
6.30pm to 8.30pm Training
8.30 to 9.00pm Bo training. long staff.
© 2009 GOJUKAI.COM.AU