Goju Kai Karate Do Sydney Australia
MARK BURTON SHIHAN OF GOJU KAI SYDNEY
~
PROFILE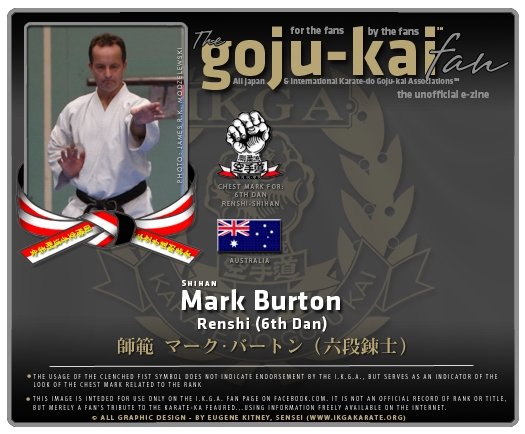 MArk Burton Shihan- Courtesy of
Eugene Kitney Sense
i.
MARK BURTON SHIHAN
Mark Burton Shihan was one of Paul Starling Shihan's first Black Belt students, having commenced his Karate training in 1971 as a young schoolboy, Mark Shihan rose quickly to Shodan level as a result of his natural talent & athletic ability, flexibility, tenacity, and fast learning rate.
A highly respected Karateka, Mark Shihan earned a reputation as both an excellent Kata performer as well as a fierce and explosive Kumite fighter, who knew no fear, and fought well above his weight ! As a matter of fact, Mark Shihan went on to become the NSW Karate Federation Kata Champion on several occasions, as well as placing in the top two in Australia (Silver medalist 1986).

He then represented Australia in the World Karate Championships at the now Olympic Games venue at Homebush in Sydney in 1986, as well as being the Australian Team Doctor at the World Championships in Taiwan in 1982, [the same year that Sandie Starling Shihan won Australia's first World Championship medal.]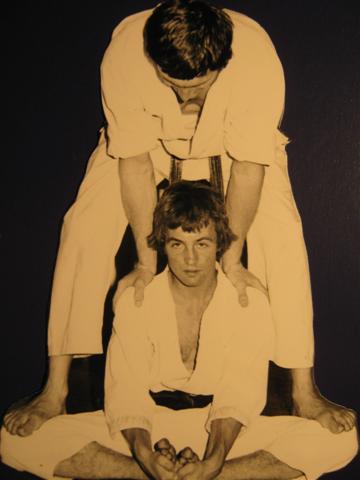 Mark Shihan has been a courageous and inspirational role model for beginning and experienced karateka, he has run a highly successful Dojo on the NSW Central Coast for approximately 20 years, producing many fine Black Belt students of his own. He is now the NSW Chief Instructor for IKGA Australia.

A student (both in classes and private lessons) of Paul Starling Shihan, Mark Shihan is also continuing to instruct at the Macquarie University Karate Club in Sydney where he has been an assistant instructor for approximately 36 years. Mark Shihan continues to both promote and spread the teachings of Yamaguchi GojuKai in Australia. His main class at Wamberal near beautiful Terrigal in New South Wales has a core group of professional students , both male and female, comprising largely professionals and Medical Practitioners and specialists.

Mark Shihan has studied the Martial Art of Ryukyu Kobujutsu Hozon Shinko Kai (Okinawan Weapons) from Paul Starling Shihan, and more recently Josef Schafer Sensei (Branch Chief from Germany) when he was visiting Sydney.

Kobujutsu and Karate training compliment each other, as whatever techniques are performed with the weapons can also be performed with empty hands, and vice versa. Members of the Macquarie University Karate Club may also study the weapons training from David Harrison Sensei.
Mark Burton Shihan- Suparinpei Kata 1983 circa.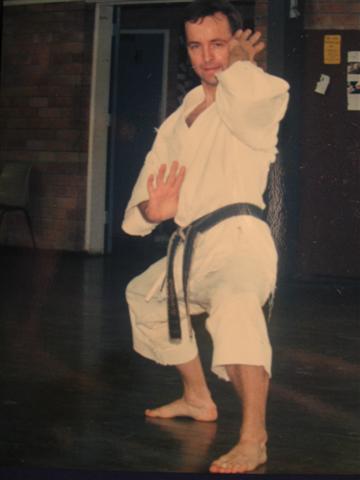 Mark Shihan's weapons teacher (Paul Starling Shihan) studied Kobujutsu at the Japan Karate Do College in Tokyo in 1973 under the direct instruction of Grand Master Motokatsu (Gansho) Inoue. After graduating from the Karate College as Shihan Renshi, Paul was appointed by Inoue Hanshi as Australian Branch Chief for the Ryukyu Kobujutsu Hozon Shinko Kai and graded to 5th Dan in that Organization. Mark Shihan now carries on Paul's teachings and hopes some day to train under the current Grand Master of Hozon Shinko Kai , Kisho Inoue Hanshi (son of the late Motokatsu Gansho Inoue). See Link Here for details:
Ryukyu Kobujutsu Hozon Shinko Kai
.
Mark Shihan's achievements and awards will be published on the Awards page shortly, as will those of Steve Colangelo Shihan, & Tom Curtis Shihan (both from Victorian Goju Kai)


© 2009 GOJUKAI.COM.AU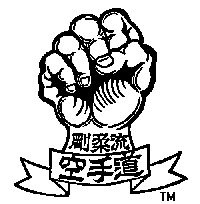 .