GOJUKAI KARATE DO AUSTRALIA~Sydney Gojukan
Founder : PAUL STARLING Kyoshi 7th Dan - VICE PRESIDENT IKGA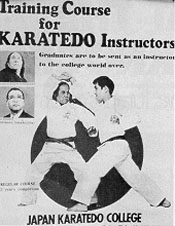 Karate ka who train for approximately 12-15 years under the direction of a Shihan, Master Instructor, can reach the rank of 3rd Dan-Sandan .This ranking leads to the qualification to Shidoin: Assistant Instructor. afterwhich the Fourth Dan- Jokyo level may be gained through dilligent study. Fifth Dan, 5th Dan Shihan Renshi and above are ranks awarded to very few individuals. Usually, recipients of such gradings have devoted the majority of their life time to the study of Budo in various forms, and have made outstanding contributions to the chosen art concerned.
It has been stated that only the most dedicated and tenacious of students will reach the rank of 1st Dan, Shodan, the initiation, or the very first level of the Black Belt ranking system. Only a handful of those will then go on to obtain the rank of 3rd Dan, even fewer will gain 4th Dan Jokyo, however it is from the 4th Dan level of achievement that the few dedicated karateka who will eventually gain Master status are chosen. Within this ranking system is embedded a hierachial level of seniority regarding Shihan status. The highest of these is Hanshi usually awarded at 8th 9th or 10th Dan level of attainment and only then to the very most senior members both in age and experience, of the Association or Dojo. In order of seniority the rank of Kyoshi is the immediate predecessor to the Hanshi and is awarded usually to the most senior members of 7th Dan rank or above. Renshi Shihan is the first level within the Shihan ranking system and can be awarded at 5th Dan, but is usually reserved for those of 6th Dan rank or above. There are currently 5 members of Goju Kai in Australia from the school of Grand-Master Gogen Yamaguchi & the IKGA who are ranked 5th Dan Renshi Shihan. Two members have been graded to 7th Dan Renshi Shihan, Paul Starling Shihan was graded in Japan in 1995 to 7th Dan Shihan Kyoshi.
New South Wales & Victoria:
The most long standing Instructors with IKGA Goju Kai Australia are Paul Starling Kyoshi 7th Dan, 46 years (since 1963) , a Vice President of the International Karate do Goju Kai Association. The next most senior Instructor in New South Wales is now Dr Mark Burton 6th Dan Renshi Shihan (since 1971 circa) . The longest serving Shihan member of the IKGA after Paul Starling is Steve Colangelo (1966 circa), 6th Dan Renshi Shihan of Victoria, then Iwan Pranatio Shihan 7th Dan Renshi (1972 circa) who was also a direct student of Gogen Yamaguchi Kaiso from the Honbu Dojo and the Nihon Karate do Senmon Gakko. Brian Mackie Kyoshi is also a very long time senior member of Goju Kai Australia and is now the current Australian Chief Instructor and IKGA Oceania Block Director. Ingo De jong Shihan, (1970 circa) Chief Instructor of European Goju Kai also a Vice President of IKGA and 8th Dan, an Australian citizen and former student of Paul Starling Shihan. Please see the links above in order to view profiles of the Instructors of the Sydney Dojo of IKGA, (Sydney Goju Kan). Victorian and other states instructors can be found from the SITE MAP.
PROFILES: Shihan Instructors Australia I.K.G.A.



Recipients of Shihan gradings in the NSW & Victorian Australian Gojukai
[listed below] and marked*

RICK BURTON 5th DAN JOKYO
WAYNE FARRAH 4th DAN JOKYO
JOKYO AND SHIDOIN WILL BE HERE